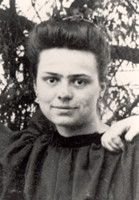 - 1 -

When I see the sun invade our cloisters with its rays,
I think that this is how God invades the soul that seeks only Him !

- 2 -

May He always be the Friend on whom you rely for everything.

- 3 -

Leave the books and work, and remain with God
in a wholly intimate heart-to-heart, in a gaze full of love.

- 4 -
>Go to draw strength in prayer, especially in that intimate heart-to-heart
in which the soul flows into God
and God flows into it to transform it into Himself.

- 5 -

Lord, I offer You the cell of my heart; may it be Your little Bethany.
Come rest there ; I love You so.

- 6 -
Transfiguration of the Lord
O my beloved Star, so fascinate me that I may not withdraw from Your radiance.

- 7 -

How great, how beautiful it is
This nature, O my God !
How great it is close to it
Raising our soul towards heavens !

- 8 -

Live in His intimacy as you would live with One you love, in a sweet heart-to-heart.

- 9 -

If anyone were to ask me the secret of happiness, I would say it is to no longer think of self.

- 10 -

In some way we begin our eternity,
living in communion with the three Divine Persons. What a mystery !

- 11 -
I am silent, I listen to Him...it is so good to hear everything He has to say.

- 12 -

I wish I could tell all souls what sources of strength,
of peace, and of happiness they would find
if they would only consent to live in this intimacy.

- 13 -

We must do all things out of love ; we must constantly forget ourselves :
the good Lord so love us forgetting ourselves.

- 14 -

Be His paradise in this country where He is so little known, so little loved,
open your heart wide to welcome Him...love ! He thirsts for love !

- 15 -
Feast of the Assumption
At each feast day of Mary, I renew my consecration.
So today I surrendered my self to her and once again, I threw myself into her arms.
With a whole confidence, I recommended my future, my vocation to her.
- 16 -

God...He "knows all, He can do all, and He loves us with so great a love ; it is Infinite !"

- 17 -

Don't ever leave Him, do everything beneath His divine gaze
and remain wholly joyful in His peace and love, making those around you happy !

- 18 -
Let us remain in His love, for that is where He keeps a rendez-vous with us.

- 19 -

If you'd prefer to think that God is close to you rather than within you,
follow your attraction, as long you live with Him.

- 20 -

Lord, I very simply come to you, with confidence, as I would come to a dear Friend.

- 21 -

The soul needs silence in order to adore.

- 22 -

May your soul be another Bethany where Jesus may come to rest,
and where you serve Him the banquet of love.

- 23 -

We see in the Gospel that God sometimes wants to make us wait,
but He refuses nothing to faith, to trust, to love.

- 24 -

Oh! let us grow each day in His love,
let us constantly be in communion with Him. Oh ! to see nothing but Him

- 25 -
As for me, I am withdrawing in recollection into the depths of my soul
where the Holy Spirit dwells.

- 26 -

As long as He would want to leave us here below, let us love,
let us love as much as we can, let us live of love...

- 27 -

May my life be a continual prayer, a long act of love.
May nothing distract me from You, neither noise nor diversions, nothing.

- 28 -

I leave you with these words of Saint Augustine :
"He is there when we think we are alone. He listens when nothings answers us,
He loves us when everything abandons us."

- 29 -

And meditation ? I would advise you to simplify all your reading, to
fill yourself a little less, you will see that this is much better.
Take your Crucifix, look, listen.

- 30 -

With Jesus, I tackle everything, and I find everything charming,
nothing is difficult or boring.

- 31 -

Sing night and day of the love of the Master. He is so good...