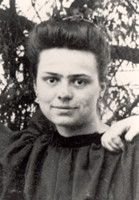 - 1 -

It's so simple, this intimacy with God; it gives rest rather than tires.

- 2 -

All nature seems so full of God to me: the wind blowing in the tall trees, the little birds singing,

- 3 -

On the train, don't forget to pray, it's the perfect time for it, as I remember.

- 4 -

I am thinking of those summer evenings we used to spend together!...Now I am all alone with Him...
If you knew what peace, what happiness floods my soul.

- 5 -
Let's walk on this magnificent road of the presence of God
on which the soul journeys 'alone with the Alone".

- 6 -

Gentle birds, bard of the nature,
Mounts and hills, flowers and greenery,
Beautiful sea with the foaming waves,
fertile and radiant ground,
You all at last, masterpieces of God,
Unite your voices to mine!

- 7 -

How that beautiful nature would transport my soul
and move it to thanksgiving to the Creator.

- 8 -

How beautiful it was that starlit valley, that immensity, that infinity.
It all spoke to me of God...

- 9 -

Take advantage of your solitude to recollect yourself with God;
while your body is resting, think how He is the rest of your soul.

- 10 -

I dive in Infinity, it is there all my share.
My soul rests in this immensity,
and lives with her Three like in the eternity.

- 11 -

Listen, my daughter, lend your ear, forget your people and your father's house,
and the King will be become enamoured of your beauty."
It seems to me that this call is an invitation to silence: listen...lend your ear...

- 12 -
Prayer...that is my form of transportation
I often make that journey to go to you.

- 13 -

In God, I have all valleys, all lakes, all perspectives.

- 14 -

Let us rest near Him; let us be very calm and silent;
let us not wake Him but wait in faith.

- 15 -

He is the Friend who wants to be loved above everything.

- 16 -
Our Lady of Mount Carmel
Never have I loved the Blessed Virgin so much! I weep for joy
when I think that this wholly serene, wholly luminous Creature is my Mother.

- 17 -

To love is to give testimony
To our Christ, to our King,
and it is to pawn our life
To better claim our faith.

- 18 -

To be the bride of Christ means to rest from everything in Him,
et and to allow Him to rest from everything in our soul!

- 19 -
Believe in His love, His exceeding love, as St Paul says.
Nourish your soul on the great thoughts of faith which will reveal to you
all its richness and the end for which God has created you!

- 20 -

Let us become silent so we may listen to Him who has so much to tell us.

- 21 -

Tomorrow is the feast of Saint Mary Magdalene,
celle dont la Vérité a dit : « Elle a beaucoup aimé ».

- 22 -

Like Magdalene, to love is
Ne to never leave the Lord.

- 23 -

Only in God is everything pure, beautiful, and holy;
fortunately we can dwell in Him even in our exile!

- 24 -

Just as a child loves to remain in the arms of its mother,
you too may find rest in the arms of God.

- 25 -

To the one who keeps His word has He not made this promise:
"My Father will love him and we will come to him and make our home in him"?
It is the whole Trinity who dwells in the soul that loves them in truth.

- 26 -
The All-Powerful whose immensity envelops the universe
to need you in order to give Himself to souls!

- 27 -

Teach the little ones to live in the sight of the Master.

- 28 -

"Father, I thank You!" My Master sang this in His soul
and He wants to hear the echo of it in mine!

- 29 -

Fortunately, while being Martha one can remain like Mary Magdalene
always near the Master, contemplating Him with a wholly loving look.

- 30 -

Let us retire to the desert with our Master
and ask Him to teach us to live by His life.

- 31 -

Let us ask Him to make us true in our love.