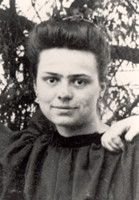 - 1 -

Will we ever understand how much we are loved ?

- 2 -

I want to help you, to be your Angel who is invisible
but always present to give you help.

- 3 -

Let us join in making our days one continual communion :
in the morning, let us wake in Love ; all day let us surrender ourselves to Love
by doing the will of God, in His presence, with Him, in Him, for Him alone.

- 4 -

Don't be troubled when you are occupied like you are now...
you can pray to God while working, it's enough to think of Him.

- 5 -

May the holy Angels draw down on us the great light that comes from the Face of the Father
and so we might always walk in the bright splendor of God.

- 6 -
I have so many desires for your soul, or rather I have only one,
that you love, that you be all love.

- 7 -

May the God who is all love be your unchanging dwelling place in the midst of the world.

- 8 -
Nativity of Mary
There is one whose life was so simple, so lost in God that there is hardly anything we can say about it...
This is the Faithful Virgin, "who kept all these things in her heart".
She remained so little, so recollected in God's presence, in the seclusion of the temple,
that she drew down upon herself the delight of the Holy Trinity.

- 9 -

My Master asks me to tell you to live very close to Him, very much in Him.
Then the outside activities, the noises within, will no longer be an obstacle.

- 10 -

What difference does the work He wills for me make ?
Since He is always with me, prayer, the heart-to-heart, must never end !

- 11 -

To love is to surrender ourselves just as Jesus did.

- 12 -

I find Him in the Cross, it is there that He gives me His life.

- 13 -
"He loved me, He gave Himself for me".
It seems to me that the whole doctrine of love,
which is true and strong, is contained in those few words.

- 14 -
Exaltation of the Cross
We must not stop before the Cross and regard it in itself,
but, recollecting ourselves in the light of faith, we must rise higher
and recognize that it is the instrument that is obeying Divine Love.

- 15 -
Our Lady of Sorrows
Mary, Queen of virgins is also Queen of martyrs...
She learned from the Word Himself
how those must suffer whom the Father has chosen.
- 16 -

I must remain "in the presence of God"...
and it is contact the divine Being that will make me "holy and immaculate" in His eyes.

- 17 -

O Master, I want to be holy for you. be my holiness, because I know my weakness.

- 18 -

What is your ideal of sanctity ?
"To live by love."
What is the most rapid way to attain it ?
"To become very little, to surrender oneself irrevocably."

- 19 -

"Love one another" : Jesus said it so many times... Henceforth...
Never a word against my neighbor will come out of my mouth, I will excuse my neighbor always.

- 20 -
Christ wants to be my peace.

- 21 -

Let us be wholly His... let us be flooded with His divine essence,
that He may be the Life of our life...
and we may consciously remain night and day under His divine action.

- 22 -

I wish you love. It seems to me that this word contains all sanctity.
Let us love it passionately.

- 23 -

Let us be holy, for "He is holy" and so let us never cease to love.

- 24 -

You will have battles to fight, you will encounter obstacles on the path of life,
but do not be discouraged, call me.

- 25 -

I wish to be wholly silent, wholly adoring so I may enter into Him ever more deeply
and be so filled with Him that I can give Him through prayer.

- 26 -

Let us live in the secret of His Face, in a profound mystery, an eternal silence.

- 27 -
I understand the silence, the recollection of the saints
who could no longer leave their contemplation ;
thus God could lead them to the divine summits.

- 28 -

My whole ideal is to fulfill the will of this Father who has loved us with an eternal love.

- 29 -

Today my whole heart sings the challenge of Michael : "Who is like God ?..."

- 30 -

I saw that when God took away from me all that seemed to be leading me to Him,
it was only to give Himself even more.