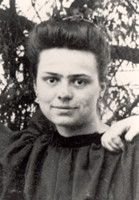 - 1 -
Mary, Mother of God
Mother of the Word, oh tell me your mystery.
After the moment of the Incarnation,
Tell me how you spent your life
Buried in adoration.

- 2 -

May the Father shower you with great generosity,
May the Word imprint itself in the center of your heart,
And may the Spirit of Love consume you unceasingly.

- 3 -

God wants to be the Friend you can always find.
He is standing at the door of your heart...He is waiting...Open to Him!

- 4 -

The secret of peace and happiness is to forget oneself, not be preoccupied with oneself.

- 5 -
Sunday of Epiphany
May this year be for your soul a chain of fidelity
in which each link, soldered by love, unites you more closely to the Master.

- 6 -

Give peace to my soul; make it Your heaven, Your beloved dwelling and Your resting place.

- 7 -

It is so good to be God's little child,
to let yourself be carried by Him all the time, to rest in His love!

- 8 -

There are two words that sum up for me all holiness, all apostolate: "Union and Love".

- 9 -

Walk in Jesus Christ: you need this broad road,
for you were not made for the narrow paths of here below! Be rooted in Him.

- 10 -

Let us live with God as with a friend, let us make our faith a living faith
in order to be in communion with Him through everything.

- 11 -

May nothing trouble my peace or make me leave You, O my Unchanging One,
but may each minute carry me further into the depths of Your Mystery.

- 12 -
Baptism of the Lord
It is baptism which has make you a child of adoption,
wich has stamped you with the seal of the Holy Trinity.

- 13 -

Jesus came to meet me.
He took me in His arms to carry me like a little child.

- 14 -

You who know what depths of love the good God has placed in your heart for your children,
so you can grasp the grandeur of this mystery:
to be children of God! Doesn't that thrill you?

- 15 -

You will never be commonplace if you are vigilant in love!

- 16 -

If you'd prefer to think that God is close to you rather than within you,
follow your attraction, as long as you live with Him.

- 17 -

Let us make a dwelling for Him in our soul that is wholly at peace,
in which the canticle of love; of thanksgiving, is always being sung.

- 18 -

"My Father, may they be one"! I so love to make this prayer.

- 19 -
Let us live by love, by adoration, by self-forgetfulness,
in wholly joyful and confident peace,
for "we are Christ's, and Christ is God's"!

- 20 -

Since we are all members of one body, inasmuch as we have an abundance of divine life,
we can communicate it in the great body of the Church.

- 21 -

Behold faith, the beautiful light of faith which appears to me! It alone should light my way.

- 22 -

We must thank Him all the time, whatever happens,
for the good God is love, and He can create nothing but Love!

- 23 -

I am full of confidence: it seems to me that my prayer is all-powerful,
for it is not I who am praying but my Christ who is within me!

- 24 -

I want to be an apostle with you, I want to work for the glory of God,
and for that I must be wholly filled with Him.

- 25 -

With St Paul, I would like to tell you:
" I lost all for His love,
And what my soul desires
is to better grasp Him each day".

- 26 -
Let yourself be loved...without fearing that any obstacle will be a hindrance to it...
This love can rebuild what you have destroyed.

- 27 -

It seems to me that adoration is the hymn that must be singing in us.

- 28 -

O Eternal Word, Word of my God, I want to spend my life in listening to You,
to become wholly teachable that I may learn all from You.

- 29 -

Think that you are with Him, and act as you would with Someone you love;
it's so simple, there is no need for beautiful thoughts,
only an outpouring of your heart.

- 30 -

I do everything with Him...whether I'm sweeping, working or at prayer,
I find everything good and delightful since it is my Master whom I see everywhere!

- 31 -

Even in the midst of the world, one can listen to Him
in the silence of a heart that wants to belong only to Him!