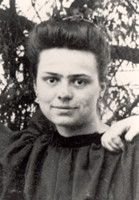 - 1 -

In the light of eternity the soul sees things as they really are.
Oh! how empty is all that has not been done for God and with God !

- 2 -

In Him, I recollect myself with you close to the little ones ;
each has her own beautiful angel beside her who sees the Face of God.

- 3 -

May His Angels cover you with their wings
and guard you all along the path of life.

- 4 -

A true love never hesitates, It always wants to give itself more.

- 5 -

I feel the "exceeding love" of my Master and wish you could believe in this love always.

- 6 -
The one who is holiest is the one who is most loving, who gazes the most toward God
and most fully satisfies the desires of His gaze.

- 7 -

I am entrusting you to the Blessed Virgin, to her who was a martyr in her heart ;
I am asking her to make her sweet light shine in you.

- 8 -

"The Virgin kept all these things in her heart" : her whole history can be summed up in these few words !
It was within her heart that she lived, and at such a depth that no human eye can follow her.

- 9 -

Ask Mary, our mother, to teach you to adore Jesus in profound recollection.

- 10 -

When I read in the Gospel "that Mary went in haste to the hill country of Judea"
to perform her loving service for her cousin Elisabeth, I imagine her passing by so beautiful,
so calm and so majestic, so absorbed in recollection of the Word of God within her.

- 11 -

Mary is there at the foot of the Cross, standing, full of strength and courage,
and here my Master gives her to me for my Mother.

- 12 -

The humility of Mary was so real for she was always forgetful, unaware, freed from self.
And she could sing : "The Almighty has done great things for me,
henceforth all peoples will call me blessed".

- 13 -
Like Jesus, the prayer of Mary was always this :
"here I am" Who? "the servant of the Lord".

- 14 -

We must let ourselves be transformed into one and the same image with Him,
and that, quite simply, by loving all the time.

- 15 -

I commend you very particularly to our holy Mother Teresa.
Let us live by love, let us be simple like she was, surrendered all the time,
immolating ourselves minute by minute by doing God's will without seeking extraordinary things.

- 16 -

God is there quite close to you, His love surrounds you.
He wants to be the Friend of all moments.

- 17 -

How all the saints remains in shadow when we look at the Blessed Virgin's light !
This is the unspeakable "secret"!

- 18 -

These missionaries are true apostles,
they speak simply with a great love for souls.

- 19 -

If we made God increase in our soul every day,
think what confidence that would give us to appear one day before His infinite holiness !

- 20 -
It is so simple to love, it is surrendering yourself to all His desires,
just as Jesus surrendered Himself to those of the Father.

- 21 -

Your mission on this earth
Is to only know to love,
It is to penetrate all the mystery
He came to reveal to you.

- 22 -

In spite of all is happening, always believe in Love :
If God seems to sleep at the center of your heart,
Don't wake Him up because it is another grace.

- 23 -

God never fails those who trust in Him.

- 24 -

Let us live with Him as with a loved one from whom we cannot be separated.

- 25 -

Love calls forth love, and I ask nothing of God
but to understand that knowledge of charity that Saint Paul speaks of.

- 26 -

Prayer is the bond between souls.

- 27 -
Blessed the ears of the soul alert enough,
recollected enough to hear the voice of the Word of God.

- 28 -

This is the measure of the holiness of the children of God :
"to be holy as God" !

- 29 -

"Be perfect as your heavenly Father is perfect".
When my Master makes me understand these words in the depths of my soul,
it seems to me that He is asking me to live like the Father "in an eternal present".

- 30 -

I do not fear my weakness ; that's what gives me confidence.

- 31 -

It does us much good to look into the soul of saints
and then to follow them through faith right up to Heaven ;
there, they are all luminous with the light of God,whom they contemplate face to face for all eternity !